Posted by Armin on Sunday, January 02, 2011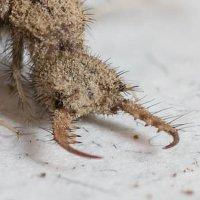 I found my pet antlion during a field trip with the entomology class to Colockum Research Station near Wenatchee in Eastern Washington. I've always been amazed by antlion traps and wondered how exactly the animals made them, and how long their construction took. Looking online, I couldn't find any really good videos of this process. Since I was eager to try out time-lapse videography anyways, I set my antlion in a small dish and let a DV camera snap an image every second for about 48 hours until I finally had the first movie. Building the pit only took about an hour, but I had a hard time to get the antlion to make one while the camera was trained on it (shyness?).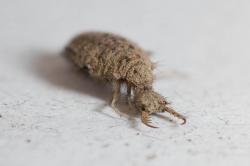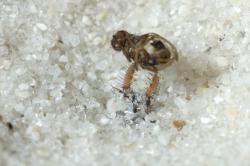 About a month later, the antlion had grown substantially (click on the image thumbnail above for a detailed picture), and made much larger pits. I decided to do another time-lapse, this time with the animal in white sand. The result is movie #2 below.
All movies were made in Apple's iMovie HD 6, which has a very convenient setting for creating time lapse recordings.
First time lapse video
Second time lapse video
Time lapse setup